EXOTICS VETERINARY PATHOLOGY INTERNSHIP ONLINE
Join a Wildlife Veterinarian LIVE...


From anywhere in the world
Work directly alongside a wildlife veterinarian at a Belizean clinic in this veterinary pathology internship. Intern at a state-of-the-art onsite clinic at a center respected locally as a leader in pathological disease assessment, treatment, and research.
This internship is designed for undergraduate students as an introduction to basic veterinary pathology.
Prerequisite: No prerequisite courses are required, but interns should have a basic understanding of mammal anatomy and physiology. 

Program Highlights
100% live online through Zoom and Google Classroom

Earn 48+ veterinary hours for VMCAS vet school applications (48 live exotics vet hours and 12 open Q-and-A vet hours with observation and optional breaks)
Join a wildlife veterinarian up close and in real time for necropsies and organ dissections
Learn pathological techniques used in veterinary medicine and participate in examinations
Support exotics rescue, rehabilitation, and research in Belize
Interns attending at least 70% of live sessions will receive a certificate of completion (sessions are recorded if you are not able to attend all hours live)
LEARN VETERINARY PATHOLOGY BASICS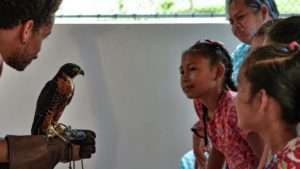 The main objective of the internship is for you to understand and learn the pathological changes that occur in tissues and organ systems and how such changes provide the basis for clinically-manifested diseases. You will have opportunities to apply concepts you have learned in cellular biology and anatomy and physiology, but these are not pre-requisite courses for the internship. You will understand and learn the occurrence, development, and progression of pathological changes in body systems and individual organs, and to relate their morphology at gross (macroscopic) and microscopic levels to clinically recognizable functional defects and disease states.
Instead of a lecture-based course, this virtual internship uses Zoom and Google Classroom to bring you into the clinic and learn as the teaching veterinarian guides you through the diagnostic processes used in the clinic. The focus is on understanding the principles and patterns of pathology by seeing them in real time. You will be exposed to practical examples of disease processes. This internship provides a foundation in pathophysiology and a link between biology concepts and their clinical applications.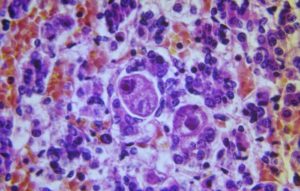 If you are interested in pathology but the terminology above sounds intimidating, don't be scared! 
This internship is designed for undergraduate-level students as a basic introduction to veterinary pathology.
Learning in an internship is different from learning in a traditional classroom. You will learn by watching the veterinarian explain and apply concepts directly to actions taken in the clinic each day.
Your tuition supports the avian rescue clinic in rural Belize where the program takes place, and ensures that your teaching vet can focus internship hours on demonstrating, teaching, and explaining pathology of exotics in ways that will be interactive, memorable, and applicable to your future veterinary education and career.
Each day, learn and practice your skills in:
Veterinary pathology
Systems pathology (specific pathogenesis and diseases of body organ systems in birds and other exotics)
Gross pathology
Histopathology
Cytology
The spectrum and mechanisms of pathological changes in tissue
The role of clinical pathology in relation to diagnosis, prognosis, case monitoring, and the use of diagnostic equipment

Hematology, coprological examination, and parasites as they relate to cause, nature, and origin of disease
Join Dissections, Exams, and Clinical Activities:
Exotics necropsies: Necropsies of birds and other exotics will be a centerpiece of the internship, and a key component to understanding health and diseased systems of animals such as birds of prey, parrots, rats, rabbits, iguanas, and coatis.
Organ dissections: Detailed dissections of organs such as heart, eye, lung, liver and brain of exotics and large animals helps you to understand the structure of these organs, their functionality, the appearance and function of healthy organs, and the ability to identify disease in these organs.
Case studies and clinical rounds: the interns will work together with the veterinarians to test, assess, and diagnose cases and prepare a treatment plan
Clinical care of exotics: triaging avian and other exotic patients and shadowing the veterinarians in providing clinical care
Osteology: understanding diseases of bones in avian patients, including fracture stabilization, surgery, and fracture pinning
Therapy and treatment in avian patients, including wound care, physical therapy, and fluid therapy and management
Radiology: the use of x-rays, including dental x-rays, in diagnosing disease
Coprology: fecal exams
Parasitology/parasite pathology: discussion and discovery of common parasites in the tropics, their symptoms, their effects of micro and macro systems, and their treatment
Histopathology and cytology: use of microscope slides and/or virtual microscopy for tutorial-style histopathological teaching, including understanding hematology, blood stains, PCV, total protein, and differential counts.

 
The course also includes an intern project (approximate time commitment outside of session: 2 hours) designing an informational brochure on a common animal illness that will be used to improve animal health in the community around your host organization.
Note: all necropsy and dissection specimens are performed on naturally deceased animals, feed animals, or animal parts disposed of from food animals. No animals will be raised for or euthanized for necropsy.
Program Dates:
July 6 – August 14, 2021
Enrollment is rolling and sessions will close as soon as they fill. If an internship session is still listed here, there are still positions available!
Zoom session times
Every Tuesday 4pm – 9pm ET starting July 6 (includes 1 hour observation break)
Every Saturday 11am – 4pm ET starting July 10 (includes 1 hour observation break)
What will a Zoom session look like? Here's an example internship day!
4-6pm Heart Necropsy (Pathological assessment)
6-7pm Observation break (Students may stay to observe microscope slides or observe animal behavior)
7-9pm Discussion: Heart diseases in veterinary medicine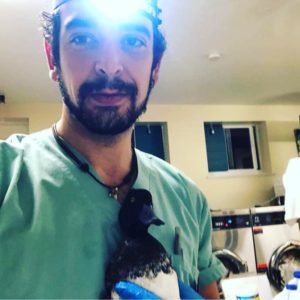 Dr. Jorge Luis is a wildlife veterinarian from Mexico who completed his studies at The National Autonomous University of Mexico School of Veterinary Medicine and Animal Husbandry (UNAM), the oldest veterinary school in the western hemisphere! UNAM is considered the most prestigious veterinary school in Latin America and is the only school in the region to be granted full accreditation by the AVMA Council on Education.
Dr. Jorge comes to us with various zoo and wildlife experience, including focused studies on lions, tigers, and birds such as blue-footed bobbies, pelicans, and raptors. Dr. Jorge is an avid fan of the outdoors and enjoys working with the amazing wildlife he gets to see and treat every day.
Tuition
Since COVID-19 disrupted many students' travel and educational plans, we are heavily discounting tuition to help pre-veterinary students meet their goals!
Full tuition is $2,000 $1495 — discounted 25% for Summer 2021

There are no additional readings, technology subscriptions, or course materials you have to purchase to participate in this research fellowship. 
Included:
All instruction directly from a veteriinarian
Online platform for video sessions, reflections, and discussion
TRAVEL EXPERIENCES FOR SUMMER 2021
Why not join us for 2 weeks to a month in the tropics?
SCHOLARSHIP AND FUNDING IDEAS
Want to study abroad but not sure if you can afford it? You are not alone! Whilst studying abroad gives you an appreciation for the world outside of your home country, grows your character and confidence, gives you great opportunities, may still worry about paying off student debt in the future. Thankfully there are a couple of options you can pursue that may make that trip of a lifetime a little bit more affordable.
The Gilman Scholarship offers awards of $5000 for undergraduate study abroad for U.S. undergraduate students who are receiving Federal Pell Grant funding at a two-year or four-year college or university. Talk to us about applying!

Many of our alumni have been successful raising money from friends, family, and community through crowdfunding. Tell your story, share your passion, and people may want to be a part of your adventure and growth!
The Gilman-McCain Scholarship is open to US citizen undergraduate students who are child dependents of active duty service members and receiving any type of Title IV federal financial aid to participate in study abroad programs worldwide.