MANATEE & CROCODILE RESEARCH FELLOWSHIP ONLINE
Perform critical research to protect crocodiles & manatees…
Program Highlights
100 research hours for VMCAS vet school applications
100% Online for Spring and Summer 2021 (Limited to 20 Fellows)
Collect and analyze data as a critical step to protect "Placencia Lagoon" as a wildlife sanctuary in Placencia, Belize.
Have a first-hand impact on the protection of wild crocodiles, manatees, and more through your research
Gain valuable research experience in drone surveys, camera traps, parasite analysis and literature reviews
 You are invited to be part of wildlife conservation and research conducted by the Crocodile Research Coalition (CRC) in and around the Placencia Lagoon in southern Belize. This is a one-of-kind online research fellowship available from anywhere.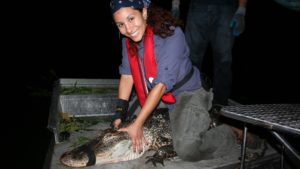 With the Crocodile Research Coalition (CRC), students will join the team to collect and analyze data, a critical step in order to protect the area as a Wildlife Sanctuary.  Although the CRC's primary study species is crocodiles, the CRC takes a more holistic approach to conservation that includes research of various species (including manatees) within crocodile habitat and involving various community members to create local stewardship of the lagoon. 
The fellowship will start with an orientation block session where we will cover methodology of wildlife research, crocodile ecology and biology, parasitology (focusing on tropical diseases), and translational ecology. CRC Director, Dr. Marisa Tellez, will also discuss the challenges of wildlife conservation and management referencing her experience with local, national, and international regulatory bodies.  After learning basic theories of wildlife research and conservation, you will be introduced to specific projects and begin analyzing data collected by CRC staff.
Your primary projects will include (100 Research Hours required):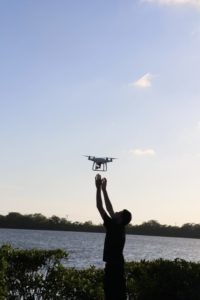 Drone surveys: drones will be flown in systematic grid patterns over marine habitat identified as prime manatee and crocodile areas. You will count and identify manatees and crocodiles in the lagoon to create a baseline population count and begin to distinguish individuals. These surveys are conducted on the ground by Next Gen Croc, a CRC program which trains youth in research techniques.
Camera traps: the CRC has secured 25 acres of land with access to another 325 acres on the western side of the Placencia Lagoon in an area known as Flower Camp.  This area has an abundance of wildlife including jaguars, tapirs, raptors, and parrots, as well as prime habitat for crocodile nesting and manatee breeding.  Motion sensor camera traps are an effective method for collecting data on elusive species with minimal impact on the study subject.  During crocodile nesting season, cameras will be set up to observe rarely observed behaviors.  Cameras will also be used to collect images of elusive terrestrial species, such as jaguars.  Reviewing these images, fellows will assess species presence/absence, determine body condition, and identify individuals.
Parasite analysis: parasites are key biological indicators of the health of the environment and the population. For those interested in wildlife disease, environmental parasitology, or veterinary science, the identification of parasites is essential to monitor in regards to impact from human development or climate change. Students will be given 1-2 examples of parasites that have been collected from snails, fish, turtles or crocodiles and utilize guides and lecture notes to identify the parasites (depending on the samples, parasites can be identified to family, genus or species).
Literature Review: you will compile resources from peer-reviewed journals as part of the CRC research.  Topics will be assigned according to current grants, presentations, and publications.  You will research the topic, compile resources and complete a paper discussing your findings.
Your impact as a research fellow…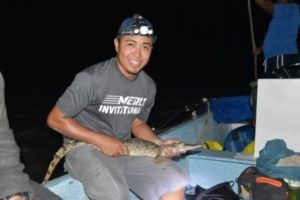 Data reviewed will be critical in determining the populations of threatened species around the Placencia Lagoon.  Working with local and national governments, we intend to use the data collected to provide supplemental data to the Belize Forest Department to establish the Placencia Lagoon as a Wildlife Sanctuary, protecting this critical habitat from further development!
Further your studies…
Other topics presented and discussed will include: species identification, basic statistical analysis, veterinary care of crocodiles (lecture by visiting vet), nocturnal eyeshine surveys (depending on current COVID-19 curfew restrictions), wildlife rescue calls, necropsy, science communication, and captive wildlife training methods. 
Students may apply from anywhere in the world. You must be fluent in English and have internet fast enough for video calls (minimum 1Mbps) and a computer with video playback, microphone, and sound. No experience with zoo or veterinary medicine is required.
PROGRAM DATES AND MEETING TIMES
Enrolling now for summer 2021! 
Summer 2021: May 22 – July 1
Enrollment deadline: May 20
Meeting Schedule
Orientation

 – Sat, May 22 and Sun, May 23: 11am-1pm ET

In Session

 – Every Mon* & Wed starting May 24: 6-7pm ET

Closing Session 

– Thu, July 1: 

11am-1pm ET

Office Hours

 – By appointment on Thursdays: 11am-2pm ET
*No session on Monday, May 31 (Memorial Day). Makeup session will be Tuesday, Jun 1.
Virtual office hours for one-on-one time with CRC staff will be available. Each fellowship session is limited to 20 fellows to ensure substantial customized mentorship.
Enrollment is rolling and sessions will close as soon as they fill. If a fellowship session is still listed here, there are still positions available.
Tuition
Since COVID-19 disrupted many students' travel and educational plans, we are heavily discounting tuition to help pre-veterinary students meet their goals!
Full tuition is $2,000 $1495

University credit is not offered with this internship. There are no additional readings, technology subscriptions, or course materials you have to purchase to participate in this research fellowship.
Included:
All instruction directly from experts
Online platforms for video sessions, reflections, and discussion
TRAVEL EXPERIENCES IN SUMMER 2021
Why not join us for 2 weeks to a month in the tropics?
SCHOLARSHIP AND FUNDING IDEAS
Want to study abroad but not sure if you can afford it? You are not alone! Whilst studying abroad gives you an appreciation for the world outside of your home country, grows your character and confidence, gives you great opportunities, may still worry about paying off student debt in the future. Thankfully there are a couple of options you can pursue that may make that trip of a lifetime a little bit more affordable.
The Gilman Scholarship offers awards of $5000 for undergraduate study abroad for U.S. undergraduate students who are receiving Federal Pell Grant funding at a two-year or four-year college or university. Talk to us about applying!

Many of our alumni have been successful raising money from friends, family, and community through crowdfunding. Tell your story, share your passion, and people may want to be a part of your adventure and growth!
The Gilman-McCain Scholarship is open to US citizen undergraduate students who are child dependents of active duty service members and receiving any type of Title IV federal financial aid to participate in study abroad programs worldwide.