Learn avian rehabilitation and support raptor rescue
Program Highlights
60 hours shadowing a live exotic animal veterinarian
100% Online during summer, 2021 (Limited to 20 interns)
Official mailed certificate of "Clinical Veterinary Care, Rehabilitation, and Raptor Enrichment" for your resume
Directly support a "resident" of the Belize Raptor Center (your very own Raptor Pen Pal!)
Sustainability: This internship is 100% powered by solar energy and rainwater!
MEET YOUR RAPTOR PEN PALS
CELA-Belize is proud to offer this ground-breaking online internship with the Belize Raptor Center (BRC), the leader in raptor conservation and rehabilitation in Belize.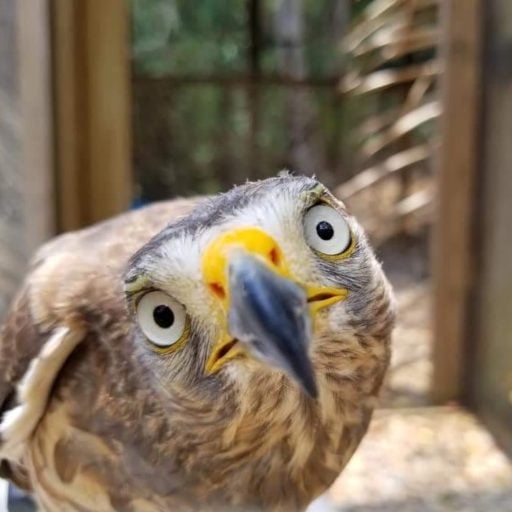 Earn 60 exotic animal veterinary hours while supporting raptor rescue through medicine, diet, rehabilitation, enrichment and training. Get exotic animal clinical experience from a veterinarian.
The BRC has made a huge impact helping birds of prey in Belize, but with the recent halt in tourism, they have lost the support they normally receive from international volunteers and visitors. Your tuition and involvement directly supports your personal Raptor Pen Pal, providing the necessary food, shelter, clinical care, rehabilitation, and enrichment for each of the 12 avian residents and transient patients. Meet the Pen Pals you will directly support by clicking the link below!
https://loopabroad.weebly.com/belize-raptor-center-pen-pals.html
Students who successfully complete this internship will earn a certificate of "Clinical Veterinary Care, Rehabilitation, and Raptor Enrichment" and 60 exotic veterinary hours that can be recorded on your VMCAS application to vet school.
While virtual shadowing, research, and learning is generally considered "vet hours" for the purpose of a VMCAS application to veterinary school, each school has discretion to determine whether or not virtual hours count the same as in-person hours. You may want to check with your vet school in advance if this is important to you.
The Belize Raptor Center (BRC)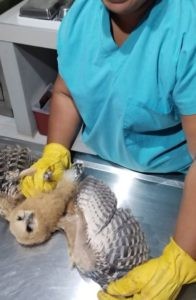 The BRC is led by Sarah Mann, a raptor conservation and rehabilitation expert with a background in wildlife biology and conservation ecology. Sarah's passion for her work is infectious, and she's been a favorite among students for many years. She, along with a veterinarian, will be demonstrating husbandry and veterinary skills during the live video sessions while progressing through immersive activities such as:
Introduction to the Belize Raptor Center
Meet the Birds (Pen Pal Assignments)
Basic husbandry and bird care
Diet preparation (rat breeding lab)
Equipment making
Setup, weigh, crate, and tether a bird
Live clinical care and studies
Mystery cases and detective work
Applications of operant conditioning
Making a shaping plan for an education bird
Bird training
Bird rescue, rehabilitation, and release
Education programs and community conservation outreach
Pre-conditioning, flight training, and creance skills
Culminating enrichment design
Facilitation and analysis of enrichment plan for your Raptor Pen Pal
Design your own raptor enrichment project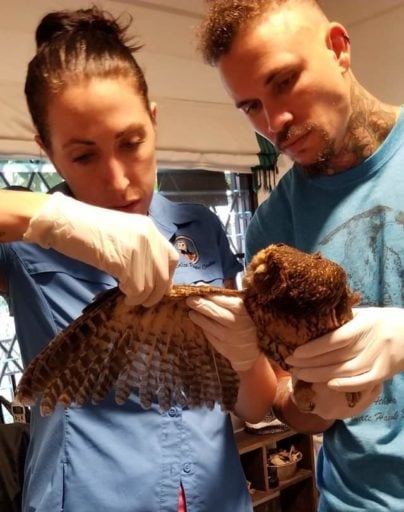 After building up your knowledge, make your own contribution by developing a novel enrichment plan for your Raptor Pen Pal. Like all captive animals whether in rescue centers or zoos, enrichment is essential for animal well-being and health!
You'll work closely with Sarah and the team to refine your plan. Once it's ready, the team will implement your plan and you can observe and analyze the results!
Internship format
This internship is 100% live via video conference over six weeks. Interns will be able to participate in meaningful and important conservation projects, while asking the veterinarian questions, and immersing themselves into the daily activities at the facility. Participants will be actively involved in the rehabilitation, clinical care, and enrichment of bird species native to Belize and the broader region.
Students will also be provided online resources and readings on exotic avian medicine and rehabilitation to supplement the live sessions – all of these resources are included in the tuition.
Students may apply from anywhere in the world. You must be fluent in English and have internet fast enough for video calls (minimum 1Mbps) and a computer with video playback, microphone, and sound. No experience with zoos or veterinary medicine is required.
PROGRAM DATES AND MEETING TIMES
Now enrolling for summer 2021!
Note: There will be a 1 hour break on Saturdays where interns can observe raptor enrichment and/or break for lunch. 
(Summer 2021) 60 exotic veterinary hours from May 18 – June 26, 2021
Every Tues beginning May 18:

5-8pm ET

Every Thurs beginning May 20:

5-7pm ET

Every Sat beginning May 22:

11am – 4pm ET
Enrollment deadline: May 16, 2021
Each week, you'll join the veterinary team by LIVE video call at the times above. Groups are limited to 20 students so all Belize Raptor Interns can ask questions and get one-on-one mentorship time.
Enrollment is rolling and sessions will close as soon as they fill. If a session is still listed here, there are still positions available.
Tuition
Since COVID-19 disrupted many students' travel and educational plans, we are heavily discounting tuition to help pre-veterinary students meet their goals!
Full tuition is $2,000 $1495
Included:
All instruction directly from experts and veterinarians
Online platforms for video sessions, reflections, and discussion
Extensive reading materials on raptor medicine and rehabilitation
TRAVEL EXPERIENCES IN WINTER AND SUMMER 2021
Why not join us for 2 weeks to a month in the tropics?
SCHOLARSHIP AND FUNDING IDEAS
Want to study abroad but not sure if you can afford it? You are not alone! Whilst studying abroad gives you an appreciation for the world outside of your home country, grows your character and confidence, gives you great opportunities, may still worry about paying off student debt in the future. Thankfully there are a couple of options you can pursue that may make that trip of a lifetime a little bit more affordable.
The Gilman Scholarship offers awards of $5000 for undergraduate study abroad for U.S. undergraduate students who are receiving Federal Pell Grant funding at a two-year or four-year college or university. Talk to us about applying!

Many of our alumni have been successful raising money from friends, family, and community through crowdfunding. Tell your story, share your passion, and people may want to be a part of your adventure and growth!
The Gilman-McCain Scholarship is open to US citizen undergraduate students who are child dependents of active duty service members and receiving any type of Title IV federal financial aid to participate in study abroad programs worldwide.