GLOBAL HEALTHCARE STUDY ABROAD
HEALTHCARE IN DEVELOPING NATIONS

Chiang Mai, Thailand
HEALTHCARE IN DEVELOPING NATIONS
Add Your Heading Text Here

Shadow medical professionals in Chiang Mai, Thailand
During this two-week medical shadowing program in Chiang Mai, Thailand, you will participate in 40 hours of medical shadowing observing the daily activities of a variety of healthcare professionals in an array of hospital settings. In addition to gaining insight into which path in healthcare, if any, interests you, you will explore global health issues, and experience magnificent Thailand first-hand.
This program is open to anyone exploring a career in medicine, including those interested in becoming medical doctors, nurses, dentists, pharmacists, and those who just aren't sure. Students with an interest in global health, community health, or public health will find that this program explores a number of themes of interest to their potential career by allowing them to learn about healthcare in a developing nation. No prior experience is required.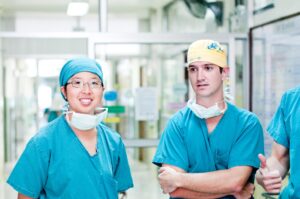 You will participate in 40 hours of medical shadowing at different hospitals in Chiang Mai. Hospital rotations will occur between 9:00 am-11:00 am and 1:00 pm-3:00 pm during each weekday. Examples of the various hospital rotations include ER, OR, outpatient department, ward rounds, nursing, hemodialysis, dental, and family medicine.You will be accompanied by program coordinators that assist with translation in departments where the doctors and nurses prefer to speak in Thai.
Between and after rotations, there will be presentations, discussion topics, and debriefing sessions. Evenings and weekends will be filled with fun actitivies like zip lining (if you choose!) and exploring street markets.

Chiang Mai is located in the mountainous area of northern Thailand. It is an enchanting Thai cultural hub, filled with elaborate temples and street markets. While in Chiang Mai, you will stay in a hotel or guest house with other students and staff. All in-country transportation and almost all meals are included in your tuition.
ITINERARY
Exact program itinerary is subject to change.
20 hours of medical shadowing
Visit with Thai healthcare students 
Discussion topics, debriefings, and presentations, including

 Health system and health indicators in Thailand
Traditional medicine in Thailand
 Comparison of medical education in the U.S. and Thailand
Chiang Mai tour with temple visits
Thai cooking class
 Visit to Night Bazaar for shopping and cultural activities
Monk chat/meditation
Ziplining or alternative activity
20 hours of medical shadowing
Visit local dog shelter
Visit a children's home that began as an orphanage for children with HIV 
Visit rice paddy to learn about rice planting
Discussion topics, debriefings, and presentations, including


One Health: Human/Animal health connection
Global health and communicable disease

One Health: Human/Environmental Health connection
Doi Suthep and Doi Pui 
Visit to Sunday Street Market
Visit Nimman area for shopping and cultural activities
Free evening to explore on your own
Tuition is $3950. All housing and meals are included in your tuition. Tuition does not include international airfare. Participants must book their own airfare to Chiang Mai, Thailand (CNX). Airport transfers in Chiang Mai are included in your tuition.
Your space is not held until your $1,000 deposit (credited toward tuition) is paid. The desposit is non-refundable. All prices are in U.S. dollars.
Interest-free payment plans are available. 
Included in program tuition:
Airport transfers in Thailand
All meals except for free evening dinner
Lodging

All lectures, guest speakers, or learning activities

All fees for included tourist activities

Program lab coat and t-shirt

24/7 staff support
Not included in program tuition:
$30 application fee
Airfare
Medical insurance (required)
Personal budget for souvenirs, etc.
Free evening-time activities and food
For over a decade, the Center for Engaged Learning Abroad (CELA) has provided academically challenging and transformative pre-health study abroad experiences. In conjunction with our parent company, which has offered study abroad opportunities in Thailand for more than 10 years,  we are excited to offer this exciting medical shadowing program in Thailand. 
EXPLORE OUR OTHER HEALTHCARE PROGRAMS
SCHOLARSHIP AND FUNDING IDEAS
Want to study abroad but not sure if you can afford it? You are not alone! While studying abroad gives you an appreciation for the world outside of your home country, grows your character and confidence, and gives you great opportunities, many still worry about paying off student debt in the future. Thankfully, you can pursue a couple of options that may make that trip of a lifetime a little bit more affordable.

Many of our alumni have been successful raising money from friends, family, and community through crowdfunding. Tell your story, share your passion, and people may want to be a part of your adventure and growth!